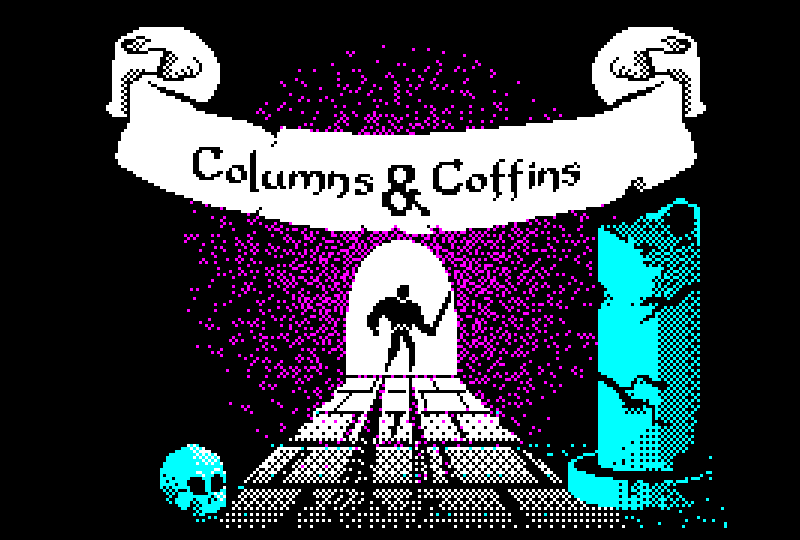 Columns&Coffins Roguelike for Pokitto
A downloadable game for Windows
Columns & Coffins is a Roguelike coded by talk.pokitto.com community members for the Pokitto opensource game console*
(*Pokitto was kickstarted 1 month ago on Kickstarter, KS units shipping August. Pokitto Webshop opening soon! )

POKITTO & CGAjam

Pokitto is a tiny game console based on an ARM Cortex-M0+ core. It has 36 kB of RAM, 256 kB of program memory and runs at 48 Mhz.

It has 2 display modes (110x88 @ 16 colors) and (220 x 176 @ 4 colors)
Color palette for different modes is freely selectable, so Pokitto was ideal device for #CGAjam !!!

Thanks to the Pokitto Sim, the code that runs on the device can be run in Windows as well ! (Native Linux version will be added soon. You should be able to play this in Wine with no problems.)

To raise awareness about Pokitto, the community team Pokitteam is submitting this game to the CGAjam!
TEAM

Adekto - code & art
vonBednar - art & concept
wuuff - code
trelemar - code
jonne - code
Special thanks for the permission for his music goes to:

... and all other Pokitto community members for pitching in with feedback and support!
Install instructions
TO INSTALL & PLAY
Unpack ZIP file
Cursor keys & Z & C ( z is A button on Pokitto hardware, c is menu button)